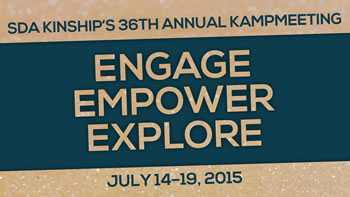 SDA Kinship Kampmeeting 2015
July 14-19, 2015

Kellogg West Conference Center & Hotel, 3801 W. Temple Avenue, Pomona, California, U.S.A.
---

Cherise Gardner is the Senior Pastor at the Long Beach SDA Church, which basically means she is the head servant. She equips and encourages the community to enact God's vision in their lives and strives to create an environment for God's perfect will to be established within the community. Cherise is married to Hugh Gardner and together they embrace a simple, dedicated faith in Jesus and are passionate about delivering the gospel in a method that makes sense to a generation that is desperately seeking a cause that is greater than themselves.