 Seventh-day Adventist World Session 2010:
The 59th General Conference Session of the Seventh-day Adventist Church
---
June 23-July 3, 2010—Atlanta, Georgia USA
Georgia World Congress Center and Georgia Dome
---
Blogging is by
Floyd Poenitz
,
KinNet Coordinator and International
Growth and Developement Coordinator for SDA Kinship, Intl.
---
Day one of the adventure!
I left Dallas at 11:30pm on Tuesday night and drove the 12+ hrs to Atlanta for General Conference. I got about 40 minutes of sleep just after crossing into Mississippi. I arrived in Atlanta at 2pm today. Just in time to pick Carrol Grady up from the airport and take her to our lodging location. We are staying in a gay owned Bed and Breakfast located between Candler Park and Eastlake, just east of downtown and not far from the Eastlake MARTA stop. We stayed here a couple of years ago when there was a Youth Congress in town and Carrol had a booth at the event. Dave F. and Carol T. will be arriving tomorrow afternoon.
Both Carrol and I were pretty tired after a LONG day of traveling, so we decided to not go to the opening meetings tonight. The exhibit hall was not open. As you may know, Carrol was denied a space in the Spectrum Booth by the NAD and GC. The reason given was that her ministry and beliefs were not in line with the guidelines of the SDA church.... meaning that she was gay affirming and approved of gay marriage. With this shift of events we have had to rethink our plans and look for other ways of making contact with folks to tell them about Carrol's Someone-to-talk-to ministry and that of SDA Kinship.
Carrol and I went to eat at The Flying Biscuit restaurant this evening. It isn't far from our B&B. Good food. Carrol is already fast asleep and I'm not far behind. The goal is to get rested up and ready for a full day tomorrow..... AFTER a yummy breakfast here at the B&B. Oh let me tell you.... the lodging comes with free breakfast. And that is a GOURMET breakfast... 3 courses made to order. If they don't have what we request, the next day it will be on the table for us. The guys are amazing!
The Exhibit hall opens at 2pm tomorrow. We want to go and check out the "lay of the land" and see how everything is arranged. We plan on taking an opinion survey asking folks some HOT TOPIC questions. Stay tuned... and if you or anyone you know is going to be here at the GC Session, PLEASE have them contact me. We'd love to talk to them!
Day Two.. the adventure gets started!
The General Conference of SDAs has rented the Georgia Dome for all the official meetings. This is where the sermons are given, business meetings conducted and all the main programs are done. Just next door is the Georgia World Congress Center... buildings A, B, and C. What we would find out over the next 10 days is, in order to get anywhere, there is a LOT of walking involved. The Exhibit Hall opened today in Building C... at the END of Building C. To get there from the B&B, we jump in the car, drive about 1/2 mile to the Eastlake MARTA station, get on the train and about 15 minutes and 8 stops later we get off at the Vine City Station. From there it is a short 10 minute walk to the Exhibit Hall. Once inside... Mass chaos... everyone milling around... meeting friends you haven't seen in a long time... lots and lots of booths. The booths range from Colleges to self supporting schools, to Adventist publications, to singing groups, to ministries of almost every kind imaginable.
We had a nice visit with all the folks in the Spectrum booth where Carrol was supposed to have her ministry represented. They offered her a spot at the table to sit and rest for a ...while! We have a lot of supportive friends in the church and that feels really good. The theme of the Spectrum booth is: Big Tent Adventism... where everyone is welcome at the table. They had a table with place settings set up to represent this. Spectrum's motto is Community through Conversation. This means that we may not always agree on things, but when we come together and discuss things, we both become stronger through dialog. This became our mantra over the next 10 days of the GC.
We were wearing buttons... mine said "U R Not Alone" and had a rainbow triangle behind it. Carrol's said No HATE. We also picked up some buttons that were being given away by the Women's Ministries booth that were advocating Women in the Ministry and ordaining women.
Dave F and Carol T arrived today. Dave and I went back to the the Dome to check out the area and see if there are any hotels where we can connect with folks if they want to talk more privately than in the Exhibit Hall. It is kind of fun walking around downtown Atlanta and running into all sorts of folks from all over that you know. Adventists everywhere!!!
Tomorrow we start doing the survey. I need some sleep... so more tomorrow!
Day Three... and Day ONE of actually "working".
We are going to hang around the Spectrum booth and give the folks passing by a survey. I choose to stay at the Spectrum booth to do this. Carrol and Carol are going to visit the booths, starting on one side and working up and down the aisles and asking the people in the booths the survey questions. Dave is going to start making rounds of the colleges and universities, making contacts for Kinship and also giving surveys.
Here are the questions we are asking:
1) Should women be allowed to pastor SDA churches?
2) Should SDA women pastors be ordained?
3) Should the theory of evolution by included in SDA college science class curriculum?
4) Should homosexuals be allowed to have church membership and to hold office?
5) Do you have a friend or relative who is homosexual?
6) Should the church instruct members on how to vote on moral issues?
7) Should the church be involved in promoting ecology?
8) Should SDA church members volunteer to participate in active military combat duty, including carrying a weapon.
9) Should Genesis 1 - 2 be read as a scientific account of the origins of the world?
Nope.. those aren't easy questions. We'll see what kinds of reactions we get. The most difficult part is going to be that we have to remain neutral and supportive of whatever/however folks respond to the questions. We are there to be unbiased. I have a feeling that I'll be biting my tongue a lot! LOL
...................................
Today we did a lot of surveys - 71, in all. On the question about whether women should be pastors, 83% said yes, and 72% said they should be ordained. 67% said the theory of evolution should be included in college science courses. 53% said homosexuals should be allowed to be church members. 67% said they had a glbti friend or relative. 31% said the church should tell members how to vote on moral issues. 91% said the church should be involved in promoting ecology. 46% said church members should be allowed to volunteer for active military service and bear arms. And 75% said the creation story in Genesis 1-2 should be read as a scientific account of the origins of the world 6-1,000 years ago. We had some good contacts. Hope to do a lot more surveys tomorrow.

Those of you who may be following GC reports on Spectrum or elsewhere will perhaps understand the pall of gloom that settled over some parts of the group after the election results were announced today. It doesn't bode well for a number of issues. Yes, Ted N. C. Wilson was "elected" the new GC President. He is very conservative and wants the church to get back to the "old time religion". We'll see what happens in the upcoming days.
Oh... we are going to have a Kinship gathering this Sunday for dinner... so if you are around here, come and join us. Please join us Sunday evening at Max's Pizza at 7 pm, at 300 Marietta St. NW about 1 block from the Dome.
Day 4
Sabbath at General Conference! As it is every day, we had a good night of rest and woke up, got ready for church and had a WONDERFUL breakfast at the B&B. The owner is wonderful. He starts off with making us a fruit plate or a "parfait" with yogurt and fruit and granola (my favorite) and then we have either freshly baked cornbread, or a sweet pastry, followed by our choice of eggs, pancakes, waffles, etc. It is nice to sit and talk amongst ourselves and have a leisurely breakfast.

Then we drive in the car for about 1/2 mile to the Eastlake Marta station, catch the train in and exit directly in front of the Georgia Dome. It is really convenient! The bottom rows of the Dome were pretty full, so we climbed up to the top section... a great view from up there to see all the folks. I posted a picture of it on my Facebook page. The new President, Ted Wilson was dedicated and appreciation was given to those who had served the past years in various positions.

The sermon was given by an outgoing VP. He was very difficult to understand and the sound system wasn't giving a clear sound. So we decided to leave before the rush of the people and went to a restaurant in the CNN Building. We got to the restaurant before it got too crowded and enjoyed a delicious meal. We were joined by an upcoming Kampmeeting speaker and later a local Kinship member (Rick Shaddix) and a friend of his came by to visit with us.

We then headed over to the exhibit hall and took a few more surveys and visited with people who came by the booth. Several Kinship members stopped by to say hello. In the evening we heard a sermon by Dennis Meier who is a pastor in Hamburg Germany. He began the week-long series on Grace and gave an excellent sermon! He is a very engaging speaker and I would like to hear more of his sermons. From his appearance, he is somewhat radical and non-typical... hair in a ponytail. I had written to him before as a possible speaker for a European Kampmeeting. So I was happy that I got to speak to him briefly after the sermon.

It was a good day.. a very nice Sabbath.
Day 6
Wow, it is Monday already! We are having a good time and making some great contacts. Last night we met with 12 Kinship friends at Max's Pizza and enjoying good food and fun fellowship! Thanks to all those who were able to join us. We have been doing a 9 question survey of folks in the exhibit hall. The results have been... interesting and it shows that folks are more ready for women to be pastors than they are for gay folks in the church.
We are refining our questions a little as we go along - have done 214 surveys so far and those in favor of women's ordination are 68%; however, on our question of Should homosexuals have church membership? has not been doing as well. It's 54% yes to 46% no.

We made some really awesome contacts today. I met a lady who had a lesbian daughter whom she loves very much and she loves her daughter-in-law just as much. They have been together for 30 years and have an 18-year-old child and grandma loves her very much! It was just so affirming to meet this lady who had never heard of Kinship and to hear that she loves her daughter unconditionally. She hopes to be at kampmeeting this year and is also trying to get her pastor to attend too. This is very refreshing to meet a lady like this!

We had some local Kinship guys come by and say hello just before the exhibit hall closed tonight. It is very nice to be in touch with these folks and to meet face to face.

Bedtime now... we'll see what adventures tomorrow holds.
Day 7
BREAKING NEWS: WOMEN'S ORDINATION ACTIVISTS HANG BANNER AT GC SESSION
Posted June 29th, 2010 by Reporting Staff
—By the Reporting Staff of Adventist Today in Atlanta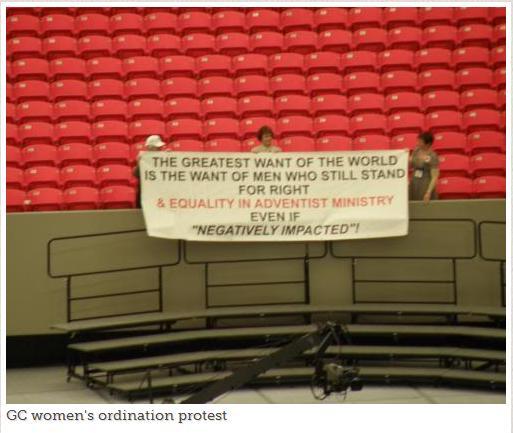 Three women activists concerned with the issue of the ordination of women in the Seventh-day Adventist Church (SDA) briefly hung a banner over the wall of a lower level of the arena during a session designed for SDA clergy during the 59th General Conference Session of the SDA Church.
The banner read "The Greatest Want of the World is the Want of Men Who Still Stand for Right and Equality in Adventist Ministry Even If Negatively Impacted." The banner stayed up for approximately 8 minutes and was taken down voluntarily when a delegate asked the group to "take it down."
Those close to the group said the banner was intended to call attention to the refusal of the leadership of the SDA Church to permit the issue of women's ordination to be brought up during the General Conference Session.
They have also pointed out that while the denomination was co-founded by a woman, Ellen G. White in the 1840s, women are not acknowledged as eligible for the church's formal authorization for full ministerial service.
---
We are working to get a Safe Places program started on Adventist college/university campuses in North America. Dave has been meeting with the Presidents this week to get their responses. He will let you know later how we are doing. So far, the results have been favorable, so we are working to get a manual together and ...Dave will be preparing a training video, for the colleges to approve. It has been wonderful to see many denominational friends and make new ones.
We had another busy day. We did 135 surveys today, including one with the new President of the North American Division who stopped by to visit. We have done a total of 522 surveys so far. We are posting the yes and no answers each day at the Spectrum and Adventist Today booths. When we are able we will include the other demographics. We are getting good results from many countries. We want to have over 1000 completed by the end of the week.
Day 8

From Carrol Grady....
Yesterday I had a long talk with the son of a kinship member who said he'd be willing to tell his story for the film. Met and shook hands with the new NAD president - he seems very nice and friendly. Of course, I'm meeting tons of people I know.

(Carrol confesses...) Oh, yes, I got involved with another group of activists yesterday... I went over to the Dome and helped hold a banner that said "THE GREATEST WANT OF THE WORLD TODAY IS THE WANT OF MEN WHO STILL STAND FOR THE RIGHT AND EQUALITY IN ADVENTIST MINISTRY, EVEN IF THEY ARE "NEGATIVELY IMPACTED." (There were 8 division presidents who said they would be "negatively impacted" if women were ordained.) However, I wore a cap with a bill that half covered my face, because Bob told me not to do this, and I didn't want to be identified. We held it hanging over the edge of the balcony for about 8-10 minutes. Quite a few people took pictures. Then a man (treasurer, I think) from the General Conference walked over and told us to take it down. Donna, whose brainchild this was, tried to ask him who he was and what authority he had, but all he would say was "Take it down," so we did. When we came out of the balcony he was there waiting for us and we had a chance to talk to him and one of the other women started crying and told him how she felt God had called her to the ministry (she was probably in her 60s) and she hadn't been allowed to follow God's call. I think he was quite touched. He was from Africa, and Donna told him that she had marched for Black equality back in the 60s. I told him that our surveys showed that people from all over the world were in favor of ordination. Finally he said, "Let's pray," (expecting, I'm sure, that he would pray for us) and Donna said, "Yes, that would be a good idea and started right in praying for him and asking God to help him use his influence to bring about His will for the church to bless its women's pastors.
More from Carrol...

Wed. night - We had a "Friends of the Film" dinner tonight with Stephen. Got home pretty late and I'm already brain-dead, but I must tell you about one experience I had today.

A Hispanic woman came by several times, but I was always interviewing. She finally came by when I wasn't busy and said she'd been wanting to talk to me. She said she is senior pastor of a church in California. Eight years ago her son told her he was gay. She has never told her husband because he is very homophobic. She told me she'd read my book and the Adventist Forum book, and then studied several theology books on the subject, and has come to believe as I do. Now she is very conflicted because she isn't in agreement with the church position on this. She wonders if she should stop pastoring. We had a good prayer together and prayed that our church would become a more loving and accepting place. So that's the third minister I've come across who has a gay son.

We've done 671 surveys as of today and want to get at least to 1000.

Floyd writes: The meeting tonight for "Friends of the Film" was really encouraging. It was nice to meet with "like-minded" friends and sit and talk. We met at Max's Pizza again... hey, when you find a good thing you gotta have it again! Steven gave us an update on how the film is going and what's happening with The Church telling them they can't use that title. We'll see what happens with that. Steven is hoping that by the end of the year, the film will be coming together and we will have a trailer to use as a teaser. I'm excited about the film!
Day 9

Today was quite a long day. I had some really good conversations and contacts. A "GC" friend stopped by to give us his take on what is going on... not the best outlook for the next 5 years. A cousin of a Kinship member who I had met at a previous Kampmeeting stopped by to take the survey and say hello. Yesterday we had... a lady from Florida stop by and requested info from us. There is a 14-year-old girl in her church who came out to her, but she can't talk to her mother about it, so we were happy to give her a lot of resource info about Kinship. She was attending GC with her pastor's wife and so she had to be discreet about the materials we gave her. Hopefully, they will be beneficial and we will hear back from her after she gets back home. Also, a mother who says her son has an "ambiguous gender" talked to us. It is good to be able to give some resource info to these folks.
I'm hoping that Friday will be a very productive day! Maybe some local Kinship folks can come and help us gather more surveys before the end of GC.
---
RE:The Seventh-day Adventist Church's top leadership voted this morning to further clarify the definition of marriage stated in the global denomination's Church Manual. —Elizabeth Lechleitner/ANN
One delegate came by the booth and told me he thought the church was moving backwards into the Dark Ages again... We have Ted's "enlightened " leadership to thank for that! Hang on for the ride the next 5 years will be a bumpy ride.
Day 10

It is Friday already! The time has really flown by way too fast! Although talking to some very conservative folks can be quite draining and painful, there are also some folks who are very open and very supportive. Making contact with the folks who didn't know a supportive group for gay and lesbian Adventist existed is very rewarding.

We have been very busy with surveys today and have started to give more Spectrum magazines away. Realizing the conference is winding down, we don't want to have to carry things home. The Christianity and Homosexuality book is all gone, either sold or given away. We only have one of Carrol's book left... all the DVDs are gone and all of Catherine's "Eden's Gifts" booklets have been given away.

We had a few more Kinship members stop by and say hello. It is always good to see familiar faces come by and say hello.
Day 11 - Sabbath
Today is the finale. A quick breakfast and then on to the Dome to hear Ted Wilson's Sabbath morning sermon. Well, if you haven't heard it, you can find it on YouTube. The sermon was pretty much what we expected.. but hearing it was really more sickening than we thought. I wondered if I really belong in this church. It isn't a place where I can feel at home. But after letting it all settle in, I am more determined than ever to remain and keep working in the church to make a difference. This is MY church and I won't let anyone take that away from me. It is MY decision. I can't let those coming out after I deal with the issues that the conservatives want to impose on them. I have to let them know that God loves them just as they are. Being homosexual is not a sin and isn't a bad thing. We have to let the homophobes know that we are just as Adventist and Christian as they are (and in many cases more so!!! LOL)
After the sermon, we went over to the CNN center and ate at the Mexican Restaurant. Sandy ran ahead of us and got a table before the crowds arrived. Thanks, Sandy! As Carrol and I made our way over there, it was a pushing crowd that was difficult to navigate. After such a conservative sermon, I figured that no one would dare to go and eat out on Sabbath. I figured that everyone would be going back to their hotel rooms to remove the fingernail polish from their fingers and toenails!!! LOL.
But I was wrong. There was already a long line waiting outside the restaurant. So we were very happy that Sandy was so agile and got there in a hurry to reserve the table. The wait staff wasn't prepared for the influx of people and had a problem getting the orders right. But again, it was nice sitting at a table with support folks.
After lunch we went back to the Exhibit Hall and worked hard until 7 pm giving away Spectrum magazines, doing a few more surveys and talking to folks about the power of sitting together and having a discussion about topics that not everyone might agree on.
Several of us then went to the Dome for the Grand Finale.. .the Parade of Nations. That is my favorite part. I had a Kinship member from the DC area that I enjoyed visiting with and talking about all the countries and divisions that were on parade.
It is a good feeling to know that you are a part of a worldwide movement that does so much good to help folks. It was a nice ending to a fantastic week. I can't wait until San Antonio in 2015... make plans NOW to join me there!
Floyd
We look back at the experience...
The Conference is over... I really enjoyed being at GC and talking to everyone. A BIG thanks to all the Kinship friends who came by the booth and said hello! It was great seeing all of you... and having some great conversations with you. I was happy to see friends who I've known for a long time, as well as several new ...friends who were Kinship members. The motto of the Spectrum booth was Big Tent Adventism and "Community through Conversation" and that is certainly true. I will start my drive back to Dallas this afternoon and will write more of my impressions of the conference in the next few days.
---
From Dave Ferguson...
We sold or gave 25 books away. Visits with the Presidents of all North American colleges/universities has started a dialogue that will continue through the Fall. A television ministry is reviewing the possibility of an interview about the book. Lots of copies of Open Hearts, Eden's Gifts, Homosexuality were picked u...p by delegates and visitors to the exhibit hall. There were long busy days, but we made new friends and got lots of people to think about important issues.
We completed over 1000 surveys. There were 9 questions about important issues facing the church. We currently have tabulated all the Yes and No responses. Now, we need to do the demographics to show Male/Female, Born SDA/Converted, Age category, Church Division representing. We hope to have this ready to share by Kampmeeting (don't miss it) and then to post on Spectrum and Adventist Today
---
From Carrol Grady....
Even though Spectrum was forbidden to welcome my ministry for families of gays and lesbians at the "Big Tent Adventism" table in their booth, they said we could "hang out" there. We devised a survey on various "hot button" issues in the church and made our headquarters at a small table in an open space beside their booth.
The second person I saw when I first walked into the exhibit hall was the GC treasurer who said I couldn't be in the Spectrum booth. He smiled and said, "I see you came" and I smiled back and said Hi. That was the only encounter we had. The second or third day I went up to an older woman in a wheelchair and asked if she would take the survey. She didn't mind the first two questions on women pastors, but by the time I got to the fourth question she was looking very suspicious, and said, "I don't like your questions." She got a card out of her purse and asked me what my name was, so I showed her my card that simply said, "Hi, my name is Carrol." Then she wanted to know my last name and my address and was ready to write it down, so I think she was wanting to "report" me to somebody in charge. I just said that if she didn't want to finish the survey, that was okay, and walked back to the Spectrum booth area. Her husband came up just as I left, and she kept talking to him and pointing at me, so I had a moment's concern that she might bring someone back there to evict us, but nothing further happened.
When I've had a booth in the past I've been able to have more in-depth conversations with people who are really interested, but with our survey, we were still able to talk with a number of people who were either sympathetic and/or needed our help. Among the four of us who were there (two Kinship members and the other mother, who had to leave early) we talked to many people who had gay children. I personally met three ministers who had gay sons - two were departmental directors in North America and Africa, and one was a woman pastor here in NAD. The minister from Africa, who just found out a year ago, is very concerned about what his son will have to face in that homophobic environment, and even concerned about how it may affect his ministry if it becomes known in the church. The female pastor, who had read my book and the Christianity and Homosexuality book had gone on to educate herself on the theological issues and is on the same page as I am. She is feeling very conflicted about continuing in ministry when she can't support the church's official stance on this issue.
Although we did meet and survey a considerable number of people who were not only supportive on the homosexuality issue but open-minded on all the questions we asked, the response to our question, Do you think homosexuals should be members of the church? was only 52% Yes to 48% No, and probably 85-90% of those who answered Yes qualified their answer by saying, only if they are non-practicing. It was obvious that most of those who answered No understood homosexuality as a choice.
I met another mother who works for the church. She said I need to have something on my website to help parents who recognize early on that their child is gay or has other gender issues. She said she knew when her son was two, and has tried to find ways to protect him from a lot of the hatred and animosity. She has home-schooled him, for one thing. He is now 15, and she has found a program at Children's Hospital in DC for "gender-variant" children, where the kids can get together with others like themselves, and the parents can talk to each other and take classes from the psychiatrists and social workers who run it. They also have a listserv that people from anywhere can join, and there are two or three more programs like this around the country. She is very interested in helping me, so that was a wonderful connection.
Our survey brought out the fact that people from all over the world are in favor of women pastors, and that, I think it was 68%, are in favor of women's ordination. I really think it is the administrators and male pastors in many countries who are not in favor. I don't have the final results with me right now, but a significant majority are in favor of teaching evolution alongside of creation in our universities, as long as we make clear that creation is our belief. About two-thirds said they know a friend or relative who is homosexual. A very high percentage said the church should NOT tell us how to vote on moral issues. And a good majority said the church should do more to encourage good stewardship of the earth - environmentalism - 91%-9%. On the question about volunteering to bear arms in active military service, more people said No, but there were a lot who said Yes. Many of them invoked the stories in the OT about God telling Israel to kill other nations, and others said they thought it was okay to kill in the context of defending your country or your family. The final question was about whether you understood the biblical creation story as scientific or a question of faith. A larger percentage said faith. To get the exact figures, check the Spectrum and AToday websites in a couple of weeks when we also get it sorted by age, sex, and country of origin.
Having lived in so many places, I enjoyed seeing tons of people I know from all over the world. However, I, unfortunately, missed several people who especially hoped to see me there. I found this a most exhausting experience and went home every night to drop into bed and try to recuperate enough to face another day, so I had no energy left to try to make connections. Not only was it extremely hot and humid here, until the last few days when it cooled off a little, but we walked miles every day. We stayed at a lovely B&B run by a sweet gay couple and were served elegant breakfasts, then took MARTA into the convention center, so we had to walk a ways in the heat, and the exhibit hall and Dome covered several city blocks. So my back and feet are feeling very abused! Bob made an appointment for me with the chiropractor tomorrow!
Yesterday I gave our B&B hosts a signed copy of my book, and this morning one of them told me he had finished it last night. He said his dad was a Presbyterian pastor and he cried a lot as he read it. He said he still loves his Savior and tries to follow the two commands of love to God and to others.
Friday was my 74th birthday; the Spectrum booth gang invited us to join them for dinner, sang Happy Birthday to me, and ordered a chocolate mouse for me with a tall, skinny stick of dark chocolate for the candle. They were all so sweet.
We went to a few of the evening meetings and of course to church. Yesterday's sermon left me feeling very discouraged about the future, but all the more determined to do what I can to help those who need comfort and encouragement. I really believe that as society continues to educate and inform people about homosexuality, more and more in our church will change, and if they don't leave in the next five years, they will be able to swing our church closer to the ideal of love and compassion for all.
---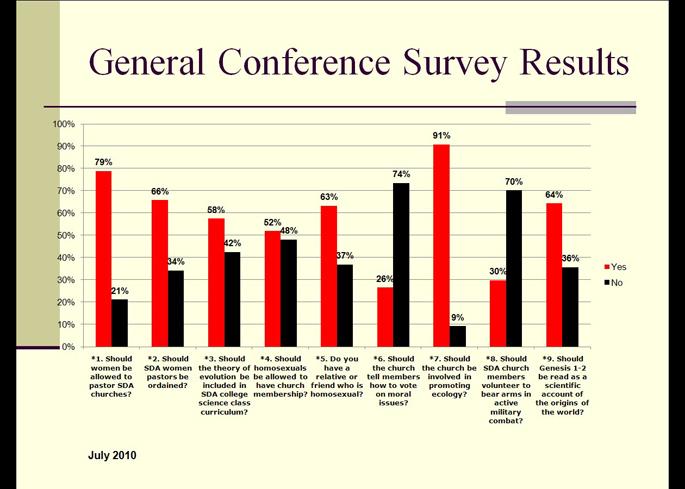 At the 2010 SDA General Conference in Atlanta, GA a survey was taken to gather quick opinions on current church issues. A little over 1000 attendees were polled and here are the quick yes/no results. A more detailed report is being compiled that will also figure in demographics such as age, gender, born or converted to Adventism, and geographic location. These stats will be reported on by Spectrum Magazine as well as Adventist Today.


---
---
Here are some reactions and comments that we heard in response to the survey:
We shouldn't have an opinion.. that is what is wrong with the church today. It should be what the Bible says and not what we think. Well, what does the Bible say? I don't know… I haven't studied it in depth… well, what do you think? I don't know.. it doesn't matter what I think… it is what the Bible says.
1). NO! If there aren't any men available to preach, then maybe. If the men are off at war.
2). No because there are sacraments that are only for men to perform and if a woman was ordained, it would be confusing. The Bible has no biblical example of this.
3) No, because I had a child who went to a school where it was being taught and now that she is no longer in the church. Only to reference that it is wrong and people will know what others are talking about. Not TAUGHT, but can be told as an FYI
4) NO…they can attend but not have membership. Just like we don't let adulterers, pedophiles, smokers, etc. hold membership. If they are celibate they can hold membership. If they are trying to change and leave their abomination, then they can attend.
5) I don't know anyone who is. In my country it isn't open to homosexuality, so we aren't aware of anyone who is. I know someone who is, but I don't associate with him. I have a niece who is… or a brother, etc. But they aren't in the church anymore…..
6) Yes, we need to know what the Bible says on these issues. Yes, the pastor needs to tell us who the right candidate is. No, we need to be informed of the issues, but we have the freedom to choose/vote.
7) Yes, we are stewards of this earth. No, the church shouldn't be political. There are better things to focus on… such as evangelism.
8) Yes, in the Old Testament God instructed the children of Israel to fight their enemies. We should be involved in being a medic and helping the soldiers and wounded. It is a personal choice and if they want to bear arms, it is their decision.
9) Yes, I read the Bible literally. Scientific…no it can't be proven, but we have to take it on faith. Yes, 24/7. I don't know.. but if it says it in the Bible, then I guess I believe it.