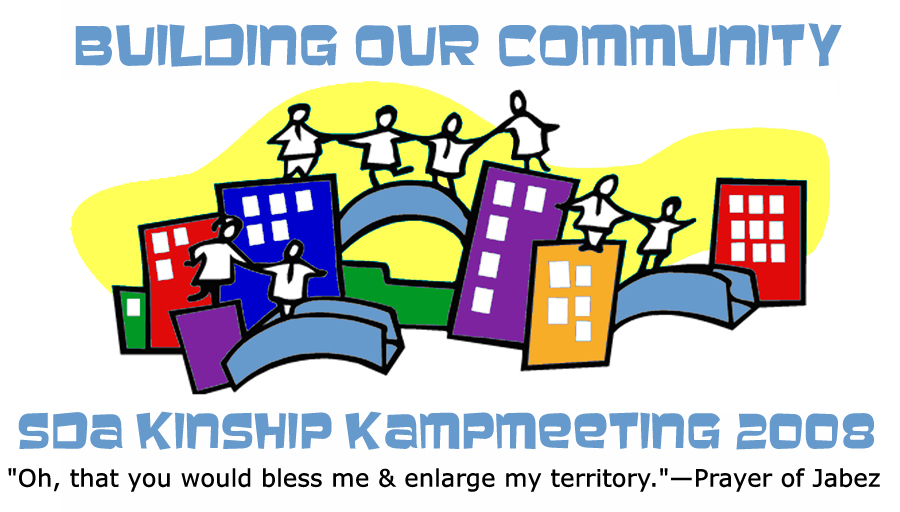 SDA Kinship Kampmeeting 2008
July 13-20, 2008


Sheraton Reston Hotel—Reston, Virginia



---

Stephen Chavez is managing editor of the magazines Adventist Review and Adventist World. He and his wife, Linda, enjoy the friendship of Kinship members around North America and are active in Region 2. They have two grown children. Steve's passion is practical Christianity, reflecting Christ's character in both words and deeds. He serves seventh and eighth graders in Earliteen Sabbath School at Sligo Church in Takoma Park, Maryland, and also chairs the church board. A dedicated runner, Steve has completed more than four dozen marathons, and has competed in countless other races of shorter distances. In his spare time Steve enjoys reading, listening to music, and fixing things.
7:30 PM, Sunday, July 13, 2008
"Going Against the Flow"
---

Raymond Roccograndi Thompson is a junior transfer student from Southern Adventist University and is enrolled at Temple University in Philadelphia, Pennsylvania. He studies Anthropology with an emphasis in Near Eastern Archaeology and Religion with an emphasis in Religions in a Global Context. Raymond has written articles for Spectrum and Adventist Today and is currently in collaborations on a proposed book deal with Pacific Press that envisions the Twenty-eight Fundamental Beliefs within the context of Progressive Adventism.
9:30 AM, Monday, July 14, 2008
"Building Blocks of Community: Forgiveness"
---

Charles Scriven is president of Kettering College of Medical Arts in Ohio. He has been an editor, a teacher of theology, and a pastor, as well as a college president. He currently serves as chair of the board of the Adventist Forum. His book, The Promise of Peace: How and Why to Be Adventist, is forthcoming.
7:30 PM, Monday, July 14, 2008
9:30 AM, Tuesday, July 15, 2008
"And Christ is Looking Back at Me"
---

The Rev. Janice Eiseman Daffern is entering her twenty-ninth year in ministry and is currently serving an historic open and affirming congregation, Evangelical Reformed United Church of Christ, in Frederick, Maryland. A fourth-generation Adventist, Jan earned a BA in theology from Loma Linda University (now La Sierra University) and took an MDIV degree from Andrews University. She served Sligo Seventh-day Adventist Church in Takoma Park, Maryland, from 1980 to 1987 as an associate pastor.
In 1990 Jan joined the United Church of Christ and was ordained to ministry in 1992. She has practiced pastoral counseling and psychotherapy for twenty years. In 1998 Jan received a Master of Social Work degree from University of Maryland and from 1999 to 2007 was the minister for pastoral care and mental health education at Calvary United Methodist Church in Frederick.
7:30 PM, Tuesday, July 15, 2008
"Boundaries: Building and Crossing for Community"

---

Elder Victor Brown has worked in secondary and higher education for the last 30 years. He has been a Bible teacher, Chaplain, and College Enrollment Vice President. Victor has worked at Mile High Academy, Shenandoah Valley, Southwestern Adventist University, Walla Walla University, and is currently employed at Kettering College of Medical Arts as the Dean for Enrollment Management.Brown received his master's degree in theology from Andrews University in Berrien Springs, Michigan, in 1986, after earning his bachelor's in both history and religion from Pacific Union College in Angwin, California, in 1976. He was ordained as a minister in 1983.
9:30 AM, Friday, July 18, 2008
"Holding Hands"