⁂ Family & Friends Monthly Roundtable Zoom Discussion - Octubre de 2020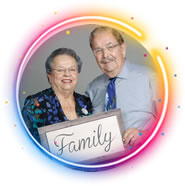 Our monthly roundtable discussions are beginning to connect and, hopefully, provide a beneficial and personal time to meet and share around the Kinship world. Each discussion has increased in attendance and participation, thanks to all of you all who have joined us.

Last Sunday our roundtable was enriched with Pastor Kris and Debbie Widmer's thoughts and comments regarding "The Fiddler on the Roof" movie/musical and its very meaningful songs and dialogue about adjusting to life-impacting changes. There was excellent participation and comments from many of those who joined the table. If you didn't join us, you missed Pastor Kris' modification of the meaningful closing song - somehow Walla Walla, Loma Linda, La Sierra, and other traditional Adventist locations were woven into the song. It was a great closure to a good discussion regarding traditions, change, and family.
We look forward to more Family & Friends folks providing other ideas, songs, poems, etc. to help us all discuss and enrich our outreach to LGBTQ+ families. The roundtables are scheduled for the 3rd Sunday of each month, starting at 9:30 AM Pacific Time Zone, lasting a maximum of 90 minutes. This roundtable is open to all Kinship members so we can have meaningful ideas and thoughts for all folks to consider and discuss.
It has been exciting and refreshing to have members from across the United States, Europe, Latin and South America, and Africa join and participate. You are welcome to stay "invisible" (just use a number or nickname), and if you prefer to stay silent you are welcome to text (chat) thoughts, comments, or questions directly to Carolyn and John and we will weave them into the discussion without sharing their sources.
We look forward to connecting with all interested members and friends on October 18. Join the roundtable and help Kinship support families in their LGBTQ+ journeys.
Blessings to all,
John & Carolyn Wilt, Coordinators
SDA Kinship Family & Friends
Esta dirección de correo electrónico está siendo protegida contra los robots de spam. Necesita tener JavaScript habilitado para poder verlo.