⁂ Saludos Desde Discovery Bay - Septiembre de 2020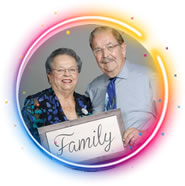 Greetings from Discovery Bay in Washington state! We are sitting in our timeshare gazing at the smooth waters of the Puget Sound. It's warmer than usual but at least the air is smoke free. We left California last week in dense smoke and fires.
We are miles from our files and folders of information to weave into this monthly sharing, so it will be a bit shorter and less complex than our previous writings.
Carolyn and I deeply appreciate all of you members that are joining our monthly Zoom discussions. It's been heartwarming to greet folks from around the world: Brazil, Europe, Africa, and across our United States. Your participation, comments, and sharing are valuable and very meaningful to others. Please stay connected and urge others to join, too.
We fully desire for these Zoom discussions to grow and deepen in meaningful subjects, presenters, and members.
If you have a subject you would like discussed, please email us the subject and your desires.
If one of you has a great video, information, or material to share, connect with us and share your desires.
If you have someone that would like to share pertinent information, again connect us so we can weave it into our discussions.
You don't have to lead the discussion—we are comfortable facilitating—but you are certainly welcome to share your thoughts and feelings as others do, too.
We are working on a "surprise" topic for our September 20 discussion. Hopefully, we'll have more on that soon as we iron out details.
It's exciting to see all the new members joining Kinship, and we urge them to share about Kinship's Family & Friends (F&F) connections, too: all moms and dads, siblings, grandparents, and aunts and uncles are welcome.
F&F has several goals and focuses. The major one is to help all family members to understand themselves, their feelings and emotions, then to understand each other and their feelings and emotions, then to grow loving bridges of communication and acceptance with all willing family members.
Carolyn and I enjoy visiting museums; and often we see complex, beautiful, colorful wall coverings woven with many different colored and textured fibers. These macramés cleverly and uniquely share scenes of history or nature. All LGBTQ+ families deserve their own family macramé; and as each member starts caring and sharing, they will discover new threads of new colors, new scenes of being family; and over time they will create their own unique and meaningful family life wall covering.
Please join and support Kinship F&F and start your new wall covering of your family.
Blessings to all,
John & Carolyn Wilt, Coordinators
Kinship Family & Friends