3 minutes reading time
(614 words)
Message from the President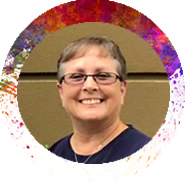 Here in the United States, June is Pride month. For more years than I can remember, but probably close to 20, Kinship Region 2 has participated in the D.C. Pride Parade—until last year when it was postponed because of the pandemic. Each year before that, my region has rented a large pickup truck, decorated it together, and given out candy and flyers along the parade route. Not one year has ever passed without someone with an Adventist background coming up to us, amazed that an Adventist LGBTIQ organization like Seventh-day Adventist Kinship International exists!
Many of our members also tell us that they are grateful Kinship exists. When I attended my very first Kampmeeting in 1995, I had an overwhelming feeling of belonging. I was among my people, my family; I was home. That year I met so many new friends, and I have kept those treasured relationships for all of these years since then.
Some Kinship members have been in the organization for many years, while others have just joined, bringing our membership to over 3,750 members! Kinship has been a refuge for so many people over the years; we've leaned on it for support, education, advocacy, and a voice for those who haven't been able to speak for themselves. Kinship has repeatedly pushed back against the denomination's harsh rhetoric and treatment of LGBTIQ people.
But I think the most important role Kinship provides for our members is community. We all deserve to feel like we belong and to feel at home and that is what Kinship still does for me. Because of that feeling, because of the deep impact that Kinship has made on me, I have accepted various leadership positions or run for office in Kinship since my first year in the organization. Other members encouraged me to get involved, and I wanted to make sure other people could experience what I had. I want others to feel that connected, too.
I've shared before that this last year or two has been a very difficult time for me, and I've struggled to maintain the same energy I've had over the last 26 years in the organization and over the last nearly 26 years of service with the Kinship board. I need to step down as president of this organization that I love so much, but I'll still be around and ready to help others.
Kinship needs you. As many of us on the international board continue to work to make Kinship meet the needs of our members, we need more help from those of you who have the talents and energy to join the board to keep Kinship growing and thriving. If Kinship means something special to you as it does to me, and if you can see why the Adventist LGBTIQ community still needs this place of support, education, and advocacy, please consider running for an office or as a member-at-large to help work on a special project.
Kinship needs you. Will you help?
If you are interested in volunteering with one of our leadership teams or on a special project or if you want to learn more about running for a position in Kinship, contact us at Diese E-Mail-Adresse ist vor Spambots geschützt! Zur Anzeige muss JavaScript eingeschaltet sein.! Isn't life about giving back to others as others have given to us?

Yolanda Elliott, President
SDA Kinship International, Inc.
Stay Informed
When you subscribe to the blog, we will send you an e-mail when there are new updates on the site so you wouldn't miss them.