Ellen's Bookshelf
Meet Ellen
Hi! I'm Ellen Henderson, a 30-something who loves to read. My favorite genre is queer YA (young adult fiction), but I dabble in other genres as well. I'm excited to keep sharing book recommendations with you. Even if reading isn't for you, tell your friends about these great books.
Have a comment about a book you read or want to suggest a book to review? I'd love to hear it! Email This email address is being protected from spambots. You need JavaScript enabled to view it..
For the more mature
Book Rec #1: Red, White & Royal Blue by Casey McQuiston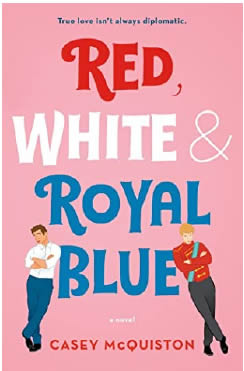 Red, White & Royal Blue is one of my all-time favorite books. We join Alex and Henry for an enemies-to-lovers secret tryst, romantic comedy. Meet Alex, the First Son of the United States. He has political dreams of one day serving the people. In the meantime, he'll work on his mother's reelection campaign (yes, the United States has its first female president!). He loves his life, work, and friends—there's just one thing that gets to him: the conceited Prince Henry of England.
Henry, on the other hand, secretly loves dogs and Star Wars—oh, and he's gay. This would be a scandal if it ever got out, and he's going to make sure it never does. When push comes to shove (literally), Alex and Henry find themselves in the midst of a public relations nightmare. Desperate to tidy up a disaster, the U.S. Executive Office and the Royal Family make a decision: it's time for Alex and Henry to become best friends, if only to appease the cameras.
What happens next is the beginning of a genuine friendship. Alex can't believe he wants to text the Prince of England silly snippets of his day. It's absolutely nothing more than friendship—and Alex is straight…right?
This book is sweet and funny with a delicious slow burn romance. You'll find yourself smiling along the way. I recommend you grab a blanket and cuddle up with your soon-to-be favorite queer romance.
Warnings: Mature. Swearing and sexual content. 18+
For your education
Book Rec #2: I Wish You All the Best by Mason Deaver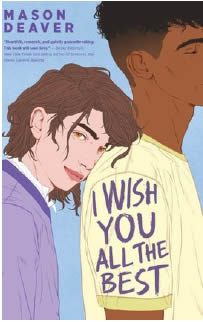 I Wish You All the Best is the first novel I've read featuring a nonbinary character. The author is enby (non-binary or NB) themself, so the book is written with an authentic voice. Ben is a high-school student who's just done a terrifying thing: they came out as nonbinary to their parents. And it didn't go well. Now, Ben finds themself living with an estranged older sister in a new town and going to a new school.
Scared to come out again, Ben goes back in the closet at school. They don't even tell their new friend, Nathan, who does everything he can to get Ben to open up. As Ben navigates their family trauma and starts building a relationship with their sister, they find solace in painting. But what happens when a student art show leads to a confrontation with the parents who rejected them? And what if people find out who Ben really is?
This novel taught me a lot about enby folks. I feel like I better understand their struggle for acceptance and identity. It gave me a lot of practice using they/them pronouns. The author has posted on Instagram several times about getting misgendered even in promoting the book. I Wish You All the Best has a lot to teach each of us—if only we're willing to listen.
Warnings: Mature. Swearing and family rejection. 16+
For younger audiences
Book Rec #3: Magnus Chase and the Gods of Asgard by Rick Riordan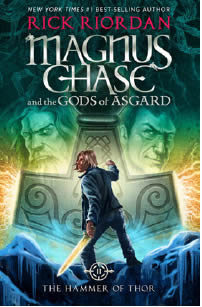 You can't go wrong with a Rick Riordan book. He's a phenomenal children's author and I highly recommend nearly every book he's ever written. They're that good. His Percy Jackson and the Olympians series is followed by The Heroes of Olympus and The Trials of Apollo, both of which include two gay characters as well as the chaotic bisexual/pansexual god Apollo. Granted, the queer characters are written in later, which is why I'm recommending the Magnus Chase and the Gods of Asgard series here.
Magnus rather reluctantly and unexpectedly finds himself living on after death as one of the god Odin's einherjar (warriors who prepare to fight in the eventual Ragnarök battle). With his new friends—including a Muslim Valkryie, a deaf elf, and a fashionable dwarf—Magnus gets caught up in the gods' petty conflicts and has to save the day (repeatedly) to prevent major cataclysmic events.
In book 2, The Hammer of Thor, we meet Alex, a genderfluid demigod, whose pronouns change daily. Alex is fierce and she/he and Magnus don't get off to a strong start. However, Alex gains the team's respect as a fearless warrior (not that she/he cares).
What I love about Alex is how strong she/he is. Alex has learned to depend only on herself/himself, and joining a team is hard. Magnus is rightfully scared for his life, but they eventually develop a friendship—and maybe more. I also appreciate that Magnus doesn't have a sexual crisis—he's just probably pansexual, no big deal.
This series is excellent for those seeking adventure. You'll learn a lot about Norse mythology and gain a deeper appreciation for the fluidity of gender and sexuality. But in the end, you'll just have a lot of fun too. It's guaranteed to leave a smile on your face.
For your spiritual life
Book Rec #4: Redeeming Love by Francine Rivers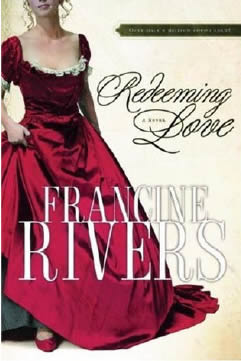 Another one of my favorite books is Redeeming Love. This story is based on the biblical prophet Hosea's relationship with his wife, the prostitute God tells him to marry. Based in the 1850s in California, it tells the eventual love story of Michael, a farmer, and Angel, a prostitute with a traumatic past. God tells Michael to marry Angel when he sees her briefly in town.
After rescuing her from a near-fatal beating, Michael takes Angel home to his new farm. Angel decidedly rejects this new husband and his God and yearns to return to the city. Michael offers ceaseless compassion, patience, and love.
Just like the woman in the book of Hosea, Angel leaves Michael time and time again. Each time, God tells Michael to bring her back. Slowly, Angel opens herself up to being loved, not only by Michael but also by God. But she knows she doesn't deserve it, just like she doesn't deserve her new life.
This book will make you cry, I guarantee it. But it will also leave you feeling hopeful and loved. It showed me the love God really has for me, and it's a book I've needed to read time and again.
Note: This book does not contain queer characters.
Warnings: Mature. Sexual content and assault. 16+