FAMILIES & FRIENDS
SAINT VALENTINE & KINSHIP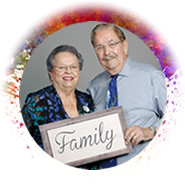 Welcome, February 2022! Yes, many of us are still protecting ourselves from various strains of COVID, so we will send cards or electronic greetings of love and affection rather than give hugs and handshakes in person. In the North American areas and many parts of Europe, February 14 highlights the wonderful emotional traits of love and affection for others.
In the United States alone, it has grown into a huge event with over 100 million Valentine Day cards mailed, another hundreds of millions of cards exchanged in school rooms, and economically over $20 billion spent on gifts, flowers, meals, and heartfelt gatherings.
So how did the valentine celebration start? When? Where? Why? How does it connect with SDA Kinship? Great questions!
It appears 1,933 years ago a Catholic priest St. Valentine of Rome was persecuted, tortured, and jailed for "succoring" persecuted Christians. "Succor" means to help or assist persons in need, to hurry and provide support; "persecute" in those days meant "to torture, torment, and maltreat" accused persons. He was jailed and tortured for supporting those desiring Christ.
Before his execution, Roman Emperor Claudius II had discussions with Valentine, attempting to get him to convert to Roman paganism in order to save his life. Valentine refused and attempted to convert Claudius to Christianity instead. Valentine was executed; but before his death, it is reported he performed a miracle by healing Julia, the blind daughter of his jailer. Julia and her large family (46 members, including servants) came to believe in Jesus and all were baptized.
Additional historical research in the 18th century provides evidence that St. Valentine wrote a card to Julia the evening before his execution and signed it "Your Valentine." Possibly the first valentine card in history! According to additional church history, St. Valentine is buried in the Church of Praxedes in Rome, and Julia planted a pink-blossomed almond tree near his grave. Today, the almond tree remains a symbol of abiding love and friendship.
One additional interesting historical claim says St. Valentine was also performing Christian weddings for military personnel, which was forbidden then. Emperor Claudius supposedly forbade marriage because married men did not make for good soldiers.
The Feast of St. Valentine was established by Pope Gelasius I in AD 496—over 1700 years ago!
Interesting St. Valentine, a Christian human, yes, a Catholic, the only Christian organization at the time, believed in Jesus' comments and actions to love everyone, to support everyone in need, and to help people connect and love each other through marriage. And once again, someone died supporting Jesus' and God's desire for us to help, to love, and to connect.
St. Valentine would have been a strong and genuine ally for Kinship. Too bad poor human judgments stopped his appropriate beliefs and actions.
Happy St. Valentine's Day to all. It definitely has more history and purpose than just Hallmark cards!
— John & Carolyn Wilt, Families and Friends Coordinators
Seventh-day Adventist Kinship International, Inc.