Families and Friends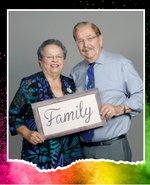 CARROL GRADY
Sleep well, looking forward to meeting again

Recently, our Adventist faith and SDA Kinship community lost a brave and loving member. Carrol Grady and her husband were lifelong missionaries and worldwide leaders and supporters of the Adventist faith. Carrol often shared about her firm beliefs in the basic teachings of our faith. Then, many years ago, their youngest son came out of the closet and Carrol and her husband went into their own faith closet—a common journey for all "rainbow" families.

But Carrol's love for her son would not be quenched by their personal beliefs. She started researching and exploring all available articles, books, and biological studies regarding sexuality and sexual attractions. Her strong maternal love for her family helped her shift from earlier learned black-and-white decisions to slowly accepting broader and real information. Yes, it was a challenging journey since her husband was employed at the General Conference level of Seventh-day Adventists. She respected their situation, but her intense motherly love for her family continued to grow and explore.

Carolyn and I like the term "tenacious: holding firmly, persistent, stubborn"—that was Carrol! A few years after going into their closet, she wrote and published their family journey, My Son, Beloved Stranger. For protection and safety, the first edition used pseudonyms for everyone. But as folks started reading and connecting with their family journey, she started supporting LGBTQ+ issues at public events; and, in 2005, she republished their story under her name. It is a powerful, very well-written family life story.

Carrol joined SDA Kinship many years ago and started the "Family and Friends" ministry. She realized families and friends need to connect for support and understanding of their family "rainbow" member. She was often seen at major Adventist conferences in booths discussing and supporting "rainbow" families and situations. She was tenacious; her strong motherly instincts rallied many other mothers and families.

In closing, we want to share her final epilogue statement from My Son, Beloved Stranger.

"One of my greatest sorrows is realizing how many Christians have failed to show Jesus' love and have driven our sons and daughters out of the church and away from God. I am thankful for the ministry of Kinship, which has provided what my church has not: a place of compassion and support for those who have been rejected. I believe that someday in the future many of us will look back in shame at our lack of love. I'm just thankful that God knows the hearts of our children and will judge them with mercy and true justice."

Thank you, loving, tenacious Carrol. It was an honor and joy to know you and work with you. Rest in peace from your final painful days. Soon all of our "rainbow" families will gather—what a potluck that will be!
— John and Carolyn Wilt, Families and Friends Directors