AL PRINCIPIO
A principios de la década de los 70, varios Adventistas gay comenzaron a buscar de forma independiente a otros Adventistas con quienes pudieran hablar acerca de sus sentimientos. Uno de ellos colocó un aviso único y pequeño en la sección clasificada de The Advocate, una revista gay estadounidense. Este aviso resultó en 37 respuestas de todas las áreas de los Estados Unidos y Canadá; todos eran Adventistas y ex-Adventistas.
KINSHIP FUE FUNDADO
Kinship se fundó con una reunión en Palm Desert, California, como resultado de un anuncio realizado por dos hombres gay Adventistas. En cuatro meses, Kinship tenía 75 miembros, un presidente temporal y cuatro comités: membresía, educativo, social y espiritual. El nuevo grupo se reunió dos veces al mes. Kinship pronto unió fuerzas con un individuo en el norte de California que había establecido una lista de amigos Adventistas gay por correspondencia en todo Estados Unidos, y otro grupo que se había estado reuniendo informalmente en Nueva York desde 1974.
PUBLICACIÓN DEL PRIMER BOLETÍN DE KINSHIP
Kinship publicó un boletín oficial, que más tarde se conocería como la Conexión. En 1985, la Conexión fue producida por primera vez en una computadora.
EL PRIMER KAMPMEETING ANUAL
El primer Kampmeeting anual se llevó a cabo en Arizona. A solicitud de Kinship, dos pastores Adventistas y tres profesores de seminario asistieron como delegados oficiales de la Conferencia General. Treinta y cinco miembros valientes asistieron a esta reunión histórica, abriendo el camino para los numerosos que ahora asisten con menos aprensión.
KINSHIP FUE INCORPORADO
El Adventista del Séptimo Día Kinship International fue incorporado por y en el Estado de California.
LA ACCIÓN LEGAL
La Iglesia Adventista del Séptimo Día inició una acción legal en un tribunal federal de distrito en California contra Kinship, por infracción de marca registrada- Esto debido al uso de "Adventista del Séptimo Día" en su nombre.
PRIMERA CONFERENCIA SOBRE EL SIDA PATROCINADA POR LA IGLESIA
Kinship participó en la primera conferencia sobre el SIDA patrocinada por la iglesia. A medida que la organización se vio afectada por esta epidemia, desarrollamos un edredón conmemorativo para recordar a aquellos miembros que perdimos por el SIDA. El edredón conmemorativo sobre el SIDA de Kinship, ha sido exhibido en varias iglesias Adventistas.
KINSHIP GANÓ LA DEMANDA
Kinship ganó la demanda presentada contra ella por la Conferencia General, que buscaba prohibir que Kinship usara "Adventista del Séptimo Día" como parte de su nombre. Un juez de California falló a favor de Kinship, declarando que no había infracción de marca registrada y permitiéndole continuar usando su nombre oficial. Lea el comunicado de prensa de Kinship...
FUE DESARROLLADO EL SERVICIO EN LÍNEA DE KINSHIP
Fue desarrollado el servicio en línea de Kinship, primero como un servidor de listas de correo electrónico, y más tarde como un grupo de debate y chat en línea llamado KinNet.
ALGUIEN CON QUIEN HABLAR
Carrol Grady, autora del libreo My Son, Beloved Stranger (1995), inició un grupo de apoyo para padres y familias de gays y lesbianas que incluía un boletín mensual, y más tarde, un correo electrónico de grupo y el sitio web Someone-to-Talk-To.
FIRST IMRU? LAUNCHED

The first IMRU? group for gay Adventists ages 18-29 was launched. In 2001 it became an official Kinship program.
FIRST WOMEN & CHILDREN FIRST
The first Women & Children First weekend preceding Kampmeeting was held as a social time for Kinship women and their children.
FIRST EUROPEAN KINSHIP MEETING
The first European Kinship Meeting was held in Tunhem, Sweden.
KINSHIP'S LOGO CREATED
In June 2003, Seventh-day Adventist Kinship announced a new logo, designed to help communicate its mission and outreach to LGBTIQ Seventh-day Adventists.

CONFERENCE ON HOMOSEXUALITY
The Kinship Advisory Council organized a Conference on Homosexuality at the Ontario Convention Center that was attended by over 300 denominational leaders.
CHRISTIANITY & HOMOSEXUALITY BOOK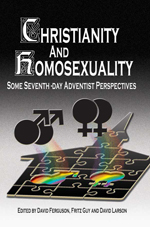 Kinship coordinated the publication of the book Christianity and Homosexuality: Some Seventh-day Adventist Perspectives. The book has been sold and distributed to numerous pastors, educators, and libraries. It triggered a one-sided conference on homosexuality at Andrews University in October 2009, to which no book editors or authors or even Kinship members were invited or asked to participate.
IAGC ORGANIZED

Groups of students at Adventist colleges and universities formed a network of official and unofficial gay-straight alliances to provide resources, programs, and support for LGBTIQ students. The Intercollegiate Adventist Gay-Straight Alliance Coalition (IAGC) was organized to bridge the gap between our Seventh-day Adventist faith-based institutions and the LGBTIQ students who attend them.
SEVENTH-GAY ADVENTISTS

Straight allies Stephen Eyer and Daneen Akers, professional filmmakers, produced the documentary Seventh-Gay Adventists: A film about faith on the margins and began screenings in strategic locations across the United States and in other countries.
PASTOR'S CONFERENCE IN KENYA
Seventh-day Adventist Kinship International sponsored its first conference in Nairobi, Kenya where Rena, George, and Professor Mugerwa from Uganda presented to over 200 Adventist pastors on how to meet the needs of the LGBTQ+ members in their congregations. This launched a Kinship program to provide this training to all Kenyan pastors.
KINSHIP'S UPDATED LOGO
In July 2018, Seventh-day Adventist Kinship announced our refreshed logo that reflects our legacy, who we are today, and symbolizes our dynamic future.

WHERE WE ARE TODAY
Kinship has a board of directors, regional coordinators, and chapter leaders in the United States and in other countries. At the time of this writing (2020) SDA Kinship has 3,616 registered members, including both LGBTIQ and straight allies, plus many more individuals who benefit from our website and resources.

Kinship's goals for the future are reflected in its stated mission: to [provide] a safe spiritual and social community to lesbian, gay, bisexual, transgender, and intersex current and former Seventh-day Adventists around the world. This means reaching those rejected and sent away by the organized church with the news that a different view exists, a biblically sound view of love and acceptance.