JESUS AND MAGNETIC FIELDS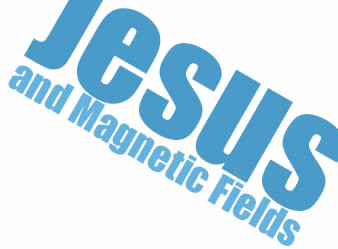 By Regina Araujo
When I was seventeen, I felt mesmerized by physics. It was absolutely elegant, I thought. Electromagnetism was (and still is!) my favorite branch of physics. Then an opportunity to "preach" on a youth Sabbath came up and I jumped on it! It would be my first time and I knew exactly what my theme would be: Jesus' Magnetic Field! I knew what to do to illustrate and even brought my show-and-tell apparatus.
I guess that was the easy part for everyone. It was also easy to make the correlation with Jesus as John 12:32 popped right off my Bible: "And I, when I am lifted up from the earth, will draw all people to Myself."
Cool! The cross is Jesus' magnetic field which envelopes all humanity, just like the earth's magnetic Van Allen belts around the globe. What a revelation! Yet, I concluded my talk that morning with a profound sense of dissatisfaction. Something was missing. And, in my heart, it was finding the cross of Christ attractive!
I could not bring myself to say, like Paul, "For I determined not to know anything among you, save Jesus Christ, and him crucified." The cross was…not attractive at all to me. In fact, it was even gruesome!
During the following seventeen years, I went on teaching about the Bible, Daniel and Revelation, God's love for humanity, and even the sanctuary with all its interesting details. Yet, I continued to avoid the cross. To my dismay, deep inside, I found myself thinking about the gospel as unethical! The vicarious role of Jesus on the cross, the Passion as painted by art and literature, the theological discourses about justice obtained on the cross—nothing could find my soteriology north in that corner of the Good News!
I will be eternally indebted to John R.W. Stott for a life-changing insight of Jesus' cross. I was able to look at the Jesus' sacrifice not as the vicarious acting of a meek Christ by a harsh and punitive Father.… Instead, I was taught about a righteous, loving Father humbling Himself to become in His only Son flesh, sin, and curse for us in order to redeem us.
Jesus hanging on a tree was more than a Pauline echo of a Mosaic illustration. My eyes opened to the fact that Christ, the Son of God, did not die for me, but as me! All of a sudden, 2 Corinthians 5:14 made perfect sense: because we are convinced that One died for all and therefore all died. The magnitude of my need, richly underscored by the cultic language of the Law and the Prophets, was paid fully in corporate identity with Him! I kept repeating to myself on the dawn of my new discovery: "He died as me…. I died in Him at Golgotha.…"
With a short phrase, Jesus forever changed my history when He died without death, as Alfred Erdersheim so powerfully affirms. Christ encountered death, not as conquered, but as the conqueror…and this argument agrees with the peculiar language of John, that He bowed His head and gave up the Spirit.
I had found the second part of my talk of seventeen years before.
I found myself magnetized at the foot of the cross. Not by what Roman soldiers, cowardly priests, and angry mobs did with the Son of God. That was not the cross, by the way. That was the devil showing the nature and extension of his hatred toward God.
Redemption at and by the cross became my most precious theme of study.
Galatians has seven affirmations on the influence of the cross of Christ. I leave you with one, in chapter 6:14, the cross and boasting. Take your Bible and read it now.
Scholars assert that the Greek kauchaomai, translated in that passage as boast, does not have any equivalent in English. It means to boast in, glory in, trust in, rejoice in, revel in, and live for.
Do you boast in the cross of Christ? If not, if this subject is still not attractive to you, like it was not to me some time ago, let's have a Sabbath afternoon chat.… I'll be glad to share with you the little I know about the magnetic properties of the cross of Christ!