2 minutes reading time
(381 words)
MESSAGE FROM THE PRESIDENT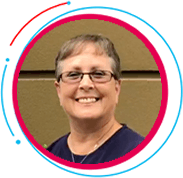 In two weeks, we will gather near Portland, Oregon, for SDA Kinship's 40th annual Kampmeeting! It is absolutely fantastic that Kinship has survived and grown into this amazing community of members from all around the world! And it started with just a few folks who wanted to connect with other gay and lesbian members from a Seventh-day Adventist background. Today we are many folks connecting with other LGBTIQ folks who are current or former Seventh-day Adventists or allies.
My very first Kampmeeting that I attended in 1995 was in Oregon. I remember vividly flying over all those beautiful evergreens as the plane approached Portland's airport, feeling both excited and nervous to be flying somewhere I'd never been before and didn't know a soul. John Wieland and Sherri Babcock picked me up from the airport. They were great people to send to help make a new member feel comfortable.
Once we arrived at Menucha, our Kampmeeting site, it was lunch time. If I'd still felt nervous and anxious after meeting John and Sherri, that didn't last long. Because I was the newest arriver, wonderful gay men surrounded me and after many hugs, escorted me into the dining hall for my first meal at Kampmeeting. That first impression of this incredible community that is Kinship has stuck with me every day since, and I've never missed another Kampmeeting since 1995.
As this is our 40th anniversary, we have been busy working on a special film commemorating the story of Kinship. The very first installment in the Kinship story, the early years, will be shown at this special Kampmeeting. If you haven't yet decided to attend, please register today! Seeing some of the early history of Kinship will leave you wanting to see more, I'm sure.
What I wish for all Kinship members is that you have the same feeling of joy of finding your community that I had. We can't choose our biological families, but we sure can choose our Kinship family. Kinship is my family of choice, and I will keep choosing Kinship for the love and community you bring to me. I hope you will choose Kinship for the love and community we can bring to you.
See you in two weeks!
Yolanda Elliott
President
SDA Kinship International
Stay Informed
When you subscribe to the blog, we will send you an e-mail when there are new updates on the site so you wouldn't miss them.