MESSAGE FROM THE PRESIDENT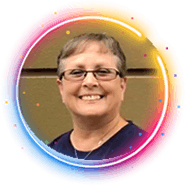 I've just returned home from our annual Kinship Region 2 mini-Kampmeeting. Each year around this time, our region descends on Rehoboth Beach, Delaware.
Most of the group stay in one large beach house and the rest stay at nearby hotels. Most activities are in walking distance of the beach house: the Presbyterian church where we meet for services, the beach and boardwalk, and many restaurants and shops. Most of us park our cars on arrival and never have to move them until it's time to return home.
Next year will be our 20th anniversary of holding this special weekend for our Kinship family!
Each year we also invite a special speaker to join us and this year's speaker was Herb Montgomery! Our group loves him and all were blessed by his presence and message.
I could regale you with lots of great stories of the many things that happened over the weekend, but isn't the saying "What happens in Rehoboth Beach stays in Rehoboth Beach"?
In reality, there are too many great stories to tell here. So what I'd like to leave with you is why this event has continued successfully for nearly 20 years.
This is a group of amazing and beautiful people who come together and support each other, love each other, appreciate and care for each other, work together, have fun together, and are always looking forward to the next time we get together. We think about things we can do together and each one contributes to make sure it can happen.
This community of Kinship nurtures our souls. We can be who we are and are accepted just as we are. Whenever some join us for the first time, the group embraces them, and they become part of the family!
I wish all regions of Kinship could have a special weekend to come together outside of our annual Kinship Kampmeeting and the European Kinship Meeting. Rehoboth mini-Kampmeeting sustains me until Kampmeeting rolls around.
I hope you have already made room in your schedule to attend our 40th Kinship Kampmeeting in Portland, Oregon, in July. You will feel the warm embrace of this amazing community and find a space where you can help to make supportive space for others.