4 minutes reading time
(777 words)
In Memoriam Reino Korhonen Kullervo & Ingemar Fägerlind
Only recently did we receive the sad news of the death of Reino Korhonen (June 1943-January 2023) and his partner Ingemar Fägerlind (December 1935-December 2021). Reino was one of the 'founding fathers' of the European Kinship meetings. In fact, the first meeting took place at their home and garden in Tunhem, Västa Göthaland, Sweden, in July 2002, the beginning of an annual tradition that will continue for the 22nd time this year from 31 August to 4 September in Friedensau, Germany. There, we will fondly remember our dear friends 'from the very first hour' of our gatherings.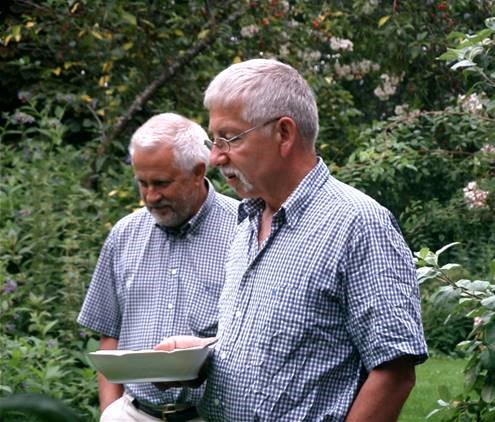 Ingemar (L) & Reino (R) in their garden, July 2002, during the first European Kinship Meeting
It was in 2000 or 2001 that Reino wrote me an e-mail expressing his desire to meet members of Kinship in Europe. In his area, he was the only gay Seventh-day Adventist, and he longed to connect with other like-minded people and fellow believers with whom he could identify, and to spiritually support and encourage each other. He just did not know how to go about it. He wanted to make his (their) own house in Tunhem available for that purpose. Since I had the same desire and we now also had a meeting place, I offered to take on the organisation and try to reach Kinship members in Europe. And so afterwards I could start the following report of our meeting in the church magazine of the Advent Church in the Netherlands:
First European Kinship Meeting Sweden
Looking out of the car window, a varied landscape of coniferous forests, lakes, and farmland unfolds. Occasionally we pass a small idyllic collection of red-brown wooden houses, sometimes a village. Suddenly a prehistoric Stonehenge-like stone collection from the third century BC. And above all that a breathtaking sky in which dark clouds and rain showers can be seen far and wide. Here and there, sunbeams pierce through the cloud cover and light turns the land to gold, a lake to silver. And then suddenly there is our destination: Tunhem in Västa Göthaland in the southern part of Sweden, between Gothenburg and Stockholm.
There were nine of us at that first meeting. Besides Reino and Ingemar, there were Bob Bouchard from the US, the then president of Kinship International, Mike Lewis from Scotland, Willy Lantz from Norway, Pieter Botha & Roy Raetzer from South Africa/Germany, my partner Kees Meiling and me from the Netherlands.
We were all personally picked up at the nearest train station by Ingemar and given a very warm welcome by him and Reino in their beautiful, rural house with beautiful (and nearby famous) rose garden. In the garden were a number of little buildings in which we were accommodated; Kees and I slept in a bedroom in the house.
Reino felt very excited and happy to finally meet other Seventh-day Adventists of a gay/other orientation. We talked a lot about spiritual and personal matters that weekend, even held a Sabbath service at the small church in Tunhem, and attended a cello concert at a church in a nearby town.
Five years later, Reino and Ingemar once again hosted a Kinship meeting at the nearby Café Cecilia in Gudhem, Falköping. I don't remember exactly how many participants there were at that time, but it was at least double the number. In recent years, the number of participants has increased very much to around 50-60 participants. Reino's idea has become a success and a blessing for many who after him had the same wish as he did at the beginning of this century.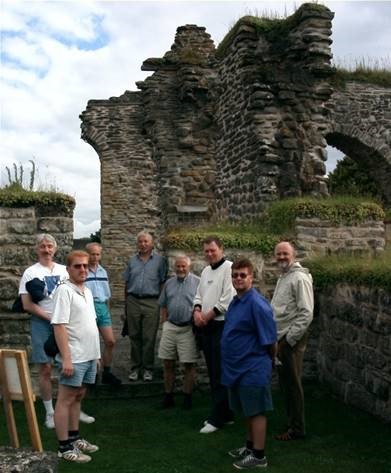 1st EKM (2002): Bob, Roy, Mike, Reino, Ingemar, Willy, Pieter, Kees (foto: Ruud)
In recent years, contact was sporadic. You no longer got replies to letters or e-mails. Phone calls still worked and it was always lovely to hear the happy response of being in touch again. But time flies and suddenly you realise you haven't been in touch for two years. And then... they are no more. As suddenly and humbly as Reino and Ingemar came into my life, they are suddenly no longer with us. We were fortunate that these good people travelled with us for part of our lives.
We/I will always be grateful to Reino, and behind him, Ingemar, for their initiative and for their friendship, love, and commitment to our group. Their valued contributions during discussions and their gentleness. The humour that could suddenly bubble up. Grateful that they both passed away peacefully (in their sleep) and lived their lives together. Simply because they loved each other. We'll meet again, we know where, don't know when.
Ruud Kieboom, Kinship Europe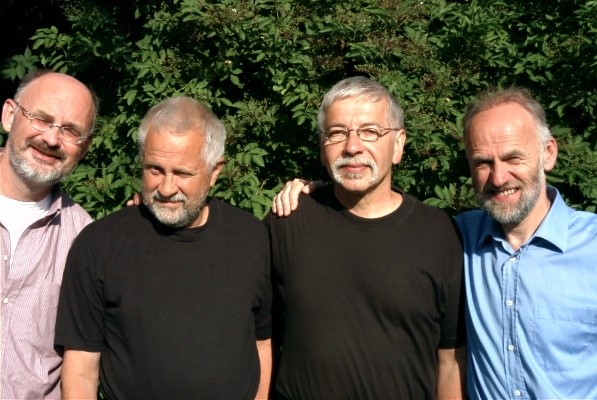 Kees, Ingemar, Reino, Ruud at EKM1
Stay Informed
When you subscribe to the blog, we will send you an e-mail when there are new updates on the site so you wouldn't miss them.