2 minutes reading time
(499 words)
Message from the President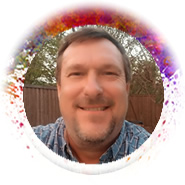 Dear Kinship Friends,
As the focus on Kinship Awareness Month comes to a close, let's continue to promote and talk about SDA Kinship and look for opportunities to tell others about SDA Kinship every month. If you have any stories to share about how you spread the good news of Kinship with others during the month, I would love to hear about it.
I have reached out to many church leaders and shared what SDA Kinship is doing for the queer Adventist community. I will continue to do so whenever the opportunity arises. We have some wonderful opportunities to grow as a community in 2023, but that is still a couple of months away. I plan to make the most of this remaining time in 2022 to be an ambassador and spokesperson for SDA Kinship.
This weekend there will be a conference for a group called CenterPeace here in Dallas that I'll be attending. There will be many leaders from the queer faith community attending. I hope to network with these other leaders to see how we can best collaborate on outreach, what is working for them, and how we can do a better job.
There are more activities happening in Kinship than ever. I don't remember ever having this much happening where our members can connect and build community. Our website had some downtime this past week because of a malware infection. That has been cleaned, and the site is up and running again.
Please check out the homepage for info on upcoming events. Many of them require registration (free), and then the actual Zoom link will be sent to you. So register early and then put the event on your digital calendar with a reminder shortly before start time. TIP: The Zoom link can be put directly into your calendar event so you will have it available for an easy click to join the meeting.
One of Kinship's goals is to create an affirming community for our members, so if you think of a new way to build community, please let me know. In the meantime, we have private Facebook groups, community WhatsApp groups, and social media for you to read and to interact with others.
We are easy to find: @sdakinhip (@sdakinshipint on YouTube) and @KinshipPrez for my personal Twitter and TikTok accounts. Especially on TikTok, I'm open to hearing suggestions on how to make that account more noticeable.
Last, November is the month of Thanksgiving for Americans; and I wanted to say a sincere THANKS to all of you for being part of this wonderfully diverse and loving community called Seventh-day Adventist Kinship, International. Reach out to me and let me know how Kinship can do a better job of including you in our communities and making you feel loved and cared for. Because you ARE loved and very valuable.
Hugs,
— Floyd Poenitz, President
Este endereço de email está sendo protegido de spambots. Você precisa do JavaScript ativado para vê-lo.
@KinshipPrez (on Twitter)
Stay Informed
When you subscribe to the blog, we will send you an e-mail when there are new updates on the site so you wouldn't miss them.