2 minutes reading time
(468 words)
Message from the President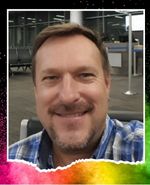 Many of our SDA Kinship members are familiar with Carrol Grady, and those who have attended Kampmeeting may have had the opportunity of meeting her in person. Carrol was a pioneer in the Adventist community, advocating for women's rights and for bringing about a better understanding of what it means for a parent to have an LGBTQIA+ child or loved one. Her book, My Son, Beloved Stranger, was groundbreaking and has been translated into several languages.

It was the first time a conservative Adventist mom and wife of an Adventist pastor and church leader, openly talked about and wrote about her journey of understanding and supporting her gay son. She dearly loved her Kinship family and was like a mother to so many of us. Her quiet and kind demeanor made it easy to talk with her. Personally, I got to know Carrol well because we worked a booth at many Adventist conferences, including the General Conference session in Toronto, before being banned. I well remember her sharing God's love for His LGBTQIA+ children with anyone who walked past our booth and would listen to her. She was a force to be reckoned with. Carrol was woven into the fabric of Kinship and taught us how important our parents and allies are for Kinship's ministry.

After a recent fall, Carrol experienced a decline in health and passed away on March 24 in her home surrounded by her loved ones. Although her earthly life has ended, her light and the ministry she started will live on and on in each of our hearts. If you haven't yet read her book, you can read it online at https://www.sdakinship.org/en/stories or download the PDF. I highly recommend that you pass it on to your parents or family. I'm sure it will resonate with them like it has for so many others.

There will be a memorial service for Carrol at the Bellevue, Washington, Adventist church on May 6 at 4 p.m. Pacific Time (US).

Carrol, may you rest in peace until Jesus calls you from the grave and we will join you in a huge Kinship Kampmeeting under the Tree of Life. We will continue your work and ministry and never let your voice be silenced. Carrol, we love you. Let's all join and spread the news that God's love is unconditional for everyone. Carrol often said, "There is a special place in heaven for LGBTQIA+ folks who have endured the rejection and marginalization from the Seventh-day Adventist church."

As Spring has arrived and we celebrate the resurrection and renewed birth, I hope we can also feel renewed as we bloom and blossom celebrating our genuine selves.
— Floyd Poenitz, President
Este endereço de email está sendo protegido de spambots. Você precisa do JavaScript ativado para vê-lo.
@KinshipPrez (on Twitter)
Stay Informed
When you subscribe to the blog, we will send you an e-mail when there are new updates on the site so you wouldn't miss them.