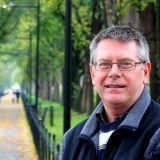 "A Victorious Failure"
BY JERRY MCKAY


After Colin's unwanted sexual advance, one would think I would have fled Reading. Or, at the very least, pulled Keith, Colin's colleague, aside and proposed an "I'm asking for a friend" scenario. I didn't. Instead, I was completely silent. I did not speak to Sharon, Colin's wife. I continued to interact with friends at Quest as if nothing were amiss. I did not call my parents or reach out to Perry who, of all people, expressed concern about my going to Reading.
As well, in the weeks that followed, I said nothing to a string of visitors. My college roommate Kelvin and his wife visited me. Robert came to Reading in the first week of July. My sister spent a week with me at the end of July. While each interacted with Colin, I was silent about the sexual abuse. In fact, I gave the impression that all was well.